开车的盆友享福了,会发光的公路,开车不再无聊,一路都可欣赏夜光美景——荷兰设计师研发出节能感光粉末,智慧型公路将在夜晚闪露美丽光芒,预计到2013年年中,荷兰将会出现能在夜幕笼罩下闪闪发光,而且还会提醒路况的智能公路。(A smart-road design that features glow-in-the-dark tarmac and illuminated weather indicators will be installed in the Netherlands from mid-2013.资料源自《Netherlands Highways Will Glow in the Dark Starting Mid-2013》)
  智能公路的概念,出自于Daan Roosegaarde的设计,他告诉Wired.co.uk:"有一天,我坐在自己的车子里看着驶过的道路,心里却惊讶于:荷兰花了数百万修建公路,但似乎没有人会去关心公路长什么样并且它们是如果为人们服务的 。我开始想象这条在电脑中规划的66号高科技、智能公路能"嗖"的一下变为现实并真正成为我们生活的一部分。"
"One day I was sitting in my car in the Netherlands, and I was amazed by these roads we spend millions on but no one seems to care what they look like and how they behave," the designer behind the concept, Daan Roosegaarde, told Wired.co.uk. "I started imagining this Route 66 of the future where technology jumps out of the computer screen and becomes part of us."
  Studio Roosegaarde工作室与Heijmans基础设施管理团队共同提出的智能公路概念不仅荣获荷兰设计大奖中的最佳未来概念奖,并且已经超越了纯概念的范畴。Roosegaarde工作室研发出一种感光粉末,用来取代现在的路面标线;这种粉末白天可以利用太阳能充电,到了晚上可发亮高达十小时之久。Roosegaarde解释:"这就好像我们小时候看到的黑暗中发光的颜料一样,只是我们与涂料制造商共同合作将这种发光涂料更推进了一步,使其现在几乎是呈放射性发光照明了。"
The Smart Highway by Studio Roosegaarde and infrastructure management group Heijmans won Best Future Concept at the Dutch Design Awards, and has already gone beyond pure concept. The studio has developed a photo-luminising powder that will replace road markings — it charges up in sunlight, giving it up to 10 hours of glow-in-the-dark time come nightfall. "It's like the glow in the dark paint you and I had when we were children," designer Roosegaarde explained, "but we teamed up with a paint manufacturer and pushed the development. Now, it's almost radioactive".
  到时候路面上会利用这种特殊的漆粉,画出雪花图案的路面标线,当温度降至某临界点时,雪花便会开始发光,提醒驾驶员路面容易打滑。Roosegaarde表示,这一技术其实已经推出应用好几年了,比如应用在婴儿食品上,而Roosegaarde工作室只不过是将这种技术推向更高端市场上罢了。
Special paint will also be used to paint markers like snowflakes across the road's surface — when temperatures fall to a certain point, these images will become visible, indicating that the surface will likely be slippery. Roosegaarde says this technology has been around for years, on things like baby food — the studio has just upscaled it.
  首段数百米可以在夜间发亮,显示路况的道路,将在2013年年中于荷兰布列达省(Brabant)完工。之后五年内,还会增添电动汽车优先使用道、感应汽车的互动路灯、风力发电路灯等服务。
The first few hundred metres of glow-in-the-dark, weather-indicating road will be installed in the province of Branbant in mid-2013, followed by priority induction lanes for electric vehicles, interactive lights that switch on as cars pass and wind-powered lights within the next five years.
  这样做不仅通过一种可持续性方式进行道路照明而让驾驶变得更安全有效,同时,设计者也想要突破公路现有的设计架构,让道路设计和汽车创新并驾齐驱。Roosegaarde工作室认为,光靠让汽车导航系统与中央交通管理连线是不够的,未来要建立更完善的道路管理系统,道路本身也需要变得更智能化,提供驾驶有用的资讯才可以。
The idea is to not only use more sustainable methods of illuminating major roads, thus making them safer and more efficient, but to rethink the design of highways at the same time as we continue to rethink vehicle design. As Studio Roosegaarde sees it, connected cars and internal navigation systems linked up to the traffic news represent just one half of our future road management systems — roads need to fill their end of the bargain and become intelligent, useful drivers of information too.
  "智能交通系统的研究已有三十几年的历史了!只要是交通建设的专家都很清楚,"Roosegaarde通讯伙伴Emina Sendijarevic告诉Wired.co.uk:"我们现在所需的是将这些好的想法付诸实践,让驾驶人可以直接受益。因此,大至国家小至企业与个人,我们的整体思维方式都要进行彻底改变。因为我们创造的不只是一条智能型公路,更是创造了一个由Heijmans公司和Roosegaarde工作室共同写下,勇敢筑梦的故事。"
"Research on smart transportation systems and smart roads has existed for over 30 years — call any transportation and infrastructure specialist and you'll find out yourself," Studio Roosegaarde communications partner Emina Sendijarevic told Wired.co.uk. "What's lacking is the implementation of those innovations and making those innovations intuitive and valuable to the end-consumers — drivers. For this, a mentality change needs to take place within a country and its people, but also within a company such as Heijmans.
"This is a story that goes beyond the 'Smart Highway' as such — it's about the fact that Heijmans and Roosegaarde are not going to wait any longer for innovations to find their way through the political system, but will start building this highway now."
  目前约有20项创新技术即将出炉,世界各国都表示出浓厚的兴趣。"印度最为积极,因为在那里常常停电,这些新技术对他们来说像是天上掉下来的礼物。"
All together, the studio has around 20 ideas that will eventually be rolled out and it has had inquiries from countries across the globe — "India is really keen on it; they have a lot of blackouts there, it would be hallelujah to them".
  Roosegaarde希望可以将这个设计推广到美国西岸,在那里,象Google公司早就有自动驾驶的汽车了。"让我惊讶的是,我在美国西岸看到的所有创新都仍在电脑里躺着。而我总在想像电脑中的各项高科技能"嗖"的一声全都变为现实并融入到我们的生活当中。重要的是我们要能够大胆发挥想像力来构建我们未来的生活,而在此过程中,一直有人不停劝诫我,说我的想法不切实际,但我要做的就是要证明他们是错的。"
Roosegaarde also hopes to take his designs to the US west coast, where companies like Google already have autonomous vehicles driving round their campuses: "It amazes me that most innovation in the west coast is screen based — I always imagined that technology jumping out of our screens and becoming part of our environment. It's incredibly important we keep imagining what our reality is going to look. A lot of people have told me along the way that what I wanted could not be done, and it's my job to prove them wrong."
  当英国当局宣布,为了节省开销并落实环保,高速公路、住宅区和人行道上的路灯在晚上九点以后将熄灯的时候,正是Roosegaarde大展身手的机会。
The Roosegaarde design promise comes as UK authorities announce that lights on motorways, residential streets and footpaths will be turned off or dimmed from as early as 9pm to save money (hundreds of thousands of pounds, in some cases) and to meet green targets.
  有些地方的公路部门认为,添购附光线调节器的路灯,又是一大笔开销,要4到5年才能收回成本,还不如将钱花在购买效率更高、更安全的技术上,来节省照明开支。《星期天电讯报》(SundayTelegraph)的报导指出,英国目前有5,000公里的高速公路和主干道是没有道路照明的,另有75公里的路灯在午夜12点到凌晨5点时这段时间是熄灭的。调查显示,在英国134个郡中,73%的路灯是关闭的或调低了亮度,或计划关闭路灯或调低路灯亮度 。但就算将主要公路的路灯都关掉,以2011年来说,高速公路局也仅能节省四十万英镑。
Some councils are, however, taking on the burden of installing new lights with dimmers, the cost of which will mean they will need to wait four to five years before they recoup the money — by which time, they could have conserved cash for more efficient and safer ways to save on lighting costs. A Sunday Telegraph report has also revealed that nearly 5,000km of motorways and trunk roads in England are already unlit, 75km have their lights switched off between midnight and 5am and 73 percent of 134 councils surveyed switch off or dim lights, or plan to. Fully switching the lights off on major roads saved the Highways Agency just ?400,000 in 2011.
  英国AA公司道路政策负责人PaulWatters告诉《星期天电讯报》:"我们知道大部分的车祸都发生在晚上,街上有灯也让行人较有安全感,尤其是对不得已夜归的民众来说更为重要,且黑暗的街道也是造成犯罪率增加的原因之一。所以即便从节省能源方面考虑可以节省造价,但从安全和交通事故上考虑则会花费更多的金钱。"
Paul Watters, head of roads policy at the AA, told the Telegraph: "We do know that most accidents happen in the dark. It's also comforting for people, especially if they arrive back from somewhere in the night, when they have got a late train. There are also suggestions that it increases crime. So it may save money in terms of energy but then you have to look at the cost in terms of security, safety and accidents, it may actually be more."
  根据ZurichConnect汽车保险公司的报告,在英国,一进入到冬天,由于天色变晚得早,该保险公司出险率立刻增加11%。
According to a report by car insurance company Zurich Connect, there is an 11 percent increase in claims immediately following the winter clock change in the UK, when nights get darker earlier.
---
Why Can't We Have Glow-in-the-Dark Highways Like the Netherlands?
By Will Oremus | Posted Friday, Jan. 4, 2013, at 5:10 PM ET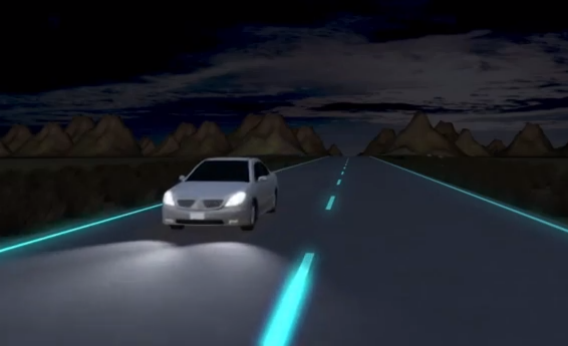 It's one thing for the rest of the world to have way cooler trains than us. America has chosen car culture, for better or worse. But now comes word that the Netherlands is building way awesomer highways, while ours are stuck in the 20th Century. The Netherlands! If this isn't a wake-up call for the United States to invest more in infrastructure, I don't know what is. (OK, maybe this.)
Wired UK reported in October that the Dutch design firm Studio Roosegaarde and infrastructure management group Heijmans have come up with a "smart highway" concept that will replace standard road markings with photoluminescent powder that charges in the daylight and glows through the night. When the temperature drops below freezing, the road will automatically light up with snowflake indicators to warn drivers of possible ice, sort of like the Coors beer cans that turn blue when they're extra cold.
Whether any of that will actually make drivers safer remains to be seen. (Personally, I'd rather see these guys collaborate with Coors on a special paint that makes cars glow in the dark when their drivers are full of alcohol.) The Netherlands is wisely starting small, with a pilot project in the province of Brabant scheduled to begin later this year. But those are only the first two stages of the grand Dutch plan to put our highways to shame. The next steps include windmills that light up as cars pass by, and "induction lanes" that would charge electric cars while they drive.
The video below offers a rough illustration of what this might look like. Even if it turns out not to work as seamlessly as the video suggests, the innovative spirit behind the concept is admirable—and sorely missing from U.S. infrastructure planning. The design firm behind the project says it would like to bring the concept to the United States eventually, but Americans shouldn't hold their breath. Current levels of infrastructure spending are barely sufficient to maintain our "D" grade from the American Society of Civil Engineers and our 23rd-place global ranking from the World Economic Forum.
---